Pregnancy Massage
A generation ago, the idea of massaging a pregnant woman was almost unheard of.
But today, pregnancy massage – or prenatal massage -- is considered an incredibly beneficial addition to almost any mother-to-be's regime. 
Pregnancy is supposed to be a wonderful time, when women often are described as "glowing" and "full of life".
But often the physical and emotional changes that come with pregnancy can be a lot for a body to handle. High levels of hormones can all kinds of problems, including cause severe, migraine like headaches.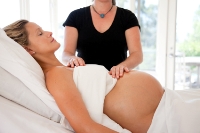 Pregnancy Massage
Weight gain concentrated around the middle can throw off the body's alignment and put stress and strain on areas that have never felt it before.
And even if a pregnancy is entirely blissful and trouble free, a mother-to-be certainly deserves to take the best possible care of herself in the months and weeks before her baby is born.
Pregnancy massage offers a wide range of benefits to pregnant women. For starters, it's an ideal form of drug-free pain relief at a time when taking prescription and over-the-counter medication is discouraged.
It relieves cramps and spasms as well as myofascial pain in the legs, hips, neck and low back.
It promotes strength, flexibility and relaxation in the body at a time when that body is preparing to do the hardest work of its life.

It increases circulation, preventing the swelling that can be common during pregnancy. It reduces the strain on hips, knees and other joints that carry the baby's weight.

It can even lead to easier labors and less labor pains. And of course, it relaxes you, reduces stress and feels great! 
Sign up for your Massage Session TODAY!


Is Pregnancy Massage Technique Different from a Normal Massage?
The main difference between a prenatal massage and a normal massage is YOU. You are pregnant, so the massage is completely tailored to your needs. That means you won't lie flat on your belly like you do during a normal massage.

Extra padding will be provided and extra care will be taken to ensure you are relaxed and comfortable in every way.
Your safety – and your baby's – is always a primary concern. So the pressure applied will be extra gentle, and the therapist will avoid sensitive areas.
Is Pregnancy Massage Okay for Everyone?
Almost any pregnant woman can benefit from massage, even those carrying multiple babies. However, there are some conditions where massage is not recommended.

If you are at risk for early labor, have a blood clotting disorder or if anything else is wrong, massage may not be right for you. It's always a good idea to ask your doctor before you book your appointment. 
The History of Pregnancy Massage
Massage has been used to relieve pain and help women through labor since ancient times. However, with the exception of rubbing a pregnant belly, specific pregnancy massage technique is a very recent phenomenon.
As the scientific community's understanding of the benefits of massage has grown, massage has been considered an appropriate therapy for more and more conditions – including pregnancy. 

What to Expect from Your Pregnancy Massage
Before you start, you will speak briefly with your therapist, letting him or her know if there are any conditions associated with your pregnancy to be aware of.

You will be led to a private room, where you can decide how much of your clothing you are comfortable removing. The room will be warm, and you will be covered with a sheet at all times, but it is not necessary to be completely naked if you don't want to be.

The massage table will be set up especially to accommodate you in ultimate comfort – there will be no stress or strain on any part of your body.
If you are uncomfortable with any of the sounds or smells in the room, let your therapist know. Pregnancy leads to some strange sensitivities, and we completely understand.

Your therapist will then begin to gently massage your body with warmed oil. The touch will be gentle, but you can ask for firmer pressure if you want it.
Also feel free to tell your therapist if there are any areas of your body that need some extra attention, like your neck, legs or feet.
You should feel completely relaxed and pampered and experience no discomfort at any time – if you do, please let your therapist know immediately.
At the end of your session, you should feel relaxed and rejuvenated. 
Sign up for your Massage Session TODAY!


What Others are Saying about Pregnancy Massage
"Massage eases anxiety and depression, as well as leg and back pain, in depressed pregnant women, and their newborns seem to benefit as well." 

Touch Research Institutes at the University of Miami School of Medicine, in Florida. Authors: T. Field, Ph.D.; M.A. Diego; M. Hernandez-Reif, Ph.D.; S. Schanberg; and C. Kuhn. Originally published in the Journal of Psychosomatic Obstetrics and Gynecology, June 2004, Vol. 25, No. 2, pp. 115-122

"Many women rank pregnancy massage as the number-one addition they would like to see in their physicians' practices." 

Kate Jordan, Massage Magazine

"Prenatal massage can reduce swelling and back and neck pain, improve muscle tone, and stimulate the circulatory system." 

Babycenter.com, November 2008

Sign up for your Massage Session TODAY!


Recommended Reading
To learn more about Pregnancy Massage, check out one of these books.

eBooks - Download Instantly
Retrace women's birthing rites to a natural birth with four amazing childbirthing experts. Discover in just minutes your choices in childbirth, how to prepare for any birth experience, how to prevent intervention and how to work through your fears.
Leino, Lena (2003) Easier, Safer, Shorter Birth. eBook. Download Now!
Natural and safe maternity acupressure method for pregnancy, inducing labor at home & getting effective relief from labor pains. Induce labor naturally in less than 48 hours. 
---

(217) 347-0500
Open
Monday through Friday 8 am - 6 pm.
Saturday by appointment.
Power Therapeutic Massage
1209 North Wenthe Drive
Suite B
Effingham
,
IL
62401
Get Directions
e-mail
Advanced reservations are appreciated, but last-minute bookings may be available. Please call for availability. In case of cancellation please give 6 hours notice.
---
Home

>
Therapies Provided

>
Pregnancy Massage
---