Reflexology Massage
If you've ever begged a friend or your significant other for a foot rub, you may not know it, but you were actually asking for a reflex-ology treatment. 
Reflexology is another word for a type of bodywork that is almost entirely focused on your feet.
It is based on the theory that your feet are covered with so-called "reflex areas" that are directly connected to glands, organs and other parts of your body.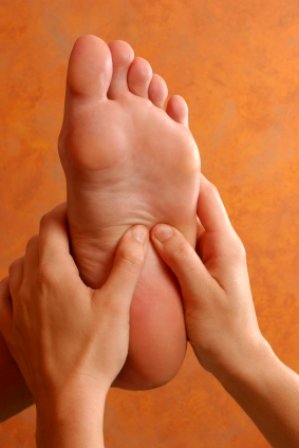 A Reflexology Foot Massage uses your pressure points to help with conditions throughout the body.
Practitioners are taught about these various connections between your feet and other body parts – connections like your head to the tips of your toes, the ball of your foot to your heart and chest area, the arch of your foot to your liver, your kidneys and your pancreas, and the heel to the lower back and intestines.

Pressing on these areas of the foot tells your brain to release endorphins, easing symptoms and promoting a feeling of well-being.

At Power Therapeutic Massage, our highly-trained therapists are experts in the art and science of reflexology. A foot massage is an excellent way to promote relaxation, ease pain, get your blood circulating and just feels good.

It also works to relieve a variety of very specific symptoms, providing an effective, drug-free alternative form of treatment.
Try a session if you suffer from sleeplessness or insomnia, PMS or menstrual cramping, back pain, arthritis, high stress, a sports injury, a digestive disorder like constipation or indigestion, a hormonal imbalance or headaches.
You might find reflexology is just what the doctor ordered. 
Sign up for your Massage Session TODAY!


The History of Reflexology
Evidence of Reflexology dates back to Ancient Egypt -- a drawing illustrating the practice was found inside the tomb of a physician. The modern form of the practice began in the United States in 1913 with ear, nose and throat doctor William H. Fitzgerald.

His studies indicated that pressure, applied properly to the hands and feet, acted as a sort of natural anesthetic on other parts of the body. Fitzgerald continued to refine his concept, introducing it to the medical community in 1915 as "zone therapy".

The discipline's development continued into the 1930s and 1940s thanks to a physiotherapist and nurse named Eunice D. Ingham.
Her research indicated that the hands and feet are the most sensitive part of the body, and she mapped where different areas of the body corresponded to areas called "reflexes" on the feet. This led to the entire practice being renamed reflexology.

Today, reflexology is used in conjunction with all kinds of medical treatment. According to the American Cancer Journal, it is used by an incredible one third of cancer patients.
It is also used to prepare patients for surgery, and as a part of many other therapy programs. 

Sign up for your Massage Session TODAY!


What to Expect from your Reflexology Foot Massage
Your session will take place in a quiet, private room, where you will be seated in a comfortable chair. You will not need to remove your clothing -- except for your shoes and socks, of course.

Your massage therapist will begin by asking you a few questions about your particular issues, aches and pains. Then he or she will take that information and begin to work their magic on your body through your feet.

Don't worry if your feet are ticklish – our massage therapists are highly professional and know how to apply pressure in a way that won't make you giggle or squirm.
You may feel a bit of discomfort when your therapist touches a sensitive area, but the treatment should not hurt, and you should let your therapist know if it does.

The release you feel may also trigger an emotional reaction—this is perfectly normal and is no cause for worry. What you should ultimately feel is a sense of well-being and relaxation washing over your entire body, concentrated in your problem areas.

You can even learn to do some reflexology at home. Check out this system for getting the benefits of a face lift in your own home, easily and effortlessly.
Sign up for your Massage Session TODAY!


What Others are Saying about Reflexology
"Reflexology significantly improved paresthesia, urinary symptoms and spasticity in people with multiple sclerosis, according to recent research." 

Department of Orthopedic Rehabilitation, Complementary Medicine Clinic, Multiple Sclerosis Center at Sheba Medical Center in Tel-Hashomer, Israel; and Gertner Institute for Epidemiology and Health Policy Research. Authors: I. Siev-Ner; D. Gamus; L. Lerner-Geva; and A. Achiron. Originally published in Multiple Sclerosis, 2003, Vol. 9, pp. 356-361.

"A 20-minute foot and hand massage significantly reduced both pain intensity and distress resulting from incisional pain on the first postoperative day. Foot and hand massage appears to be an effective, inexpensive, low-risk, flexible, easily applied strategy for postoperative pain management." 

Clarion Health Partners Methodist Hospital and Indiana University School of Nursing, Indianapolis, Indiana. Authors: Hsiao-Lan Wang, R.N., and Juanita F. Keck, R.N. Originally published in Pain Management Nursing, June 2004, Vol. 5, No. 2, pp. 59-65.

"Ten minute reflexology treatments can provide relief from pain, nausea and anxiety." 

School of Nursing, Division of Science and Design, University of Canberra, Australia

Sign up for your Massage Session TODAY!


---

(217) 347-0500
Open
Monday through Friday 8 am - 6 pm.
Saturday by appointment.
Power Therapeutic Massage
1209 North Wenthe Drive
Suite B
Effingham
,
IL
62401
Get Directions
e-mail
Advanced reservations are appreciated, but last-minute bookings may be available. Please call for availability. In case of cancellation please give 6 hours notice.
---
Home

>
Therapies Provided

>
Reflexology
---