Hot Stone Massage Therapy
Since ancient times, heat has been known to have healing properties, especially when it comes to soothing sore muscles.
If your mother ever sent you to bed with a hot water bottle or heating pad when you were a child, you know what we mean. Now imagine combining that soothing, relaxing power of deep, penetrating heat with the gentle kneading and pressure of a great massage.

It's called hot stone massage, and it's currently gaining in popularity at spas and resorts around the world.
Hot stone massage therapy is massage performed with the aid of special stones that are easily heated and hold that heat well. The stones, often made of the volcanic rock basalt, are perfectly smooth and feel incredible against your skin.
The massage itself is deeply relaxing and soothing. It's an indulgent treat, to be sure, but one with some very real benefits to both your body and your mind.
The stones used in hot stone massage therapy serve two purposes. One is to simply deliver heat deep into your tissues. For this, stones are placed in two rows along your spine, or at other chakra centers on your body.
Sometimes you are given two warm stones to hold, relaxing your hand muscles as they absorb the soothing heat.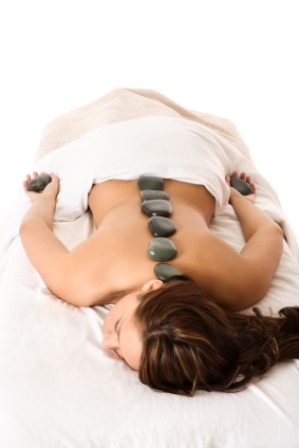 Sign up for a relaxing Hot Stone Session and this could be you.

Massage therapists also use stones as tools to actually massage parts of your body, pressing them gently yet deeply into tight muscles.
Using the stones applies a different kind of pressure than the hand alone can deliver, and with the combination of the stone's heat and its smooth texture, the sensation is totally amazing!

The soothing heat given off by the stones relaxes your muscles while increasing blood flow to your tissues. This increased blood flow and circulation not only feels great, it has the added effect of calming and relaxing your mind.
The end result is a gentle-yet-intensive experience that will leave you completely and totally relaxed, both physically and mentally. 
Sign up for your Massage Session TODAY!


The History of Hot Stone Massage Therapy
Hot stone massage is traditionally credited to the Native Americans, who used heat in many of their healing rituals.
If you've ever seen a Western film featuring Native Americans, you've no doubt witnessed a scene featuring men bonding in a sweat lodge.
Hot Stone Massage Therapy was also a popular practice. The stones would be warmed in a fire, and applied to the skin to promote relaxation, healing and well-being. 
The practice entered the mainstream in the '90s, when New Age therapies – especially Native American therapies – became popular at spas across the country.
Tucson, Arizona native and massage therapist Mary Nelson usually gets the credit as the woman behind the craze. 
While working with a Native American spiritual guide named San Juanette, she invented and trademarked a treatment she christened LaStone therapy, using hot and cold stones in massage.

As her treatment grew in popularity, other spas went on to develop their own versions of this mystical Native American practice. 
Sign up for your Massage Session TODAY!


What to Expect from Hot Stone Massage Therapy
Before your appointment, our skilled massage therapist will heat the stones in clean, sanitized water warmed to between 120 and 150 degrees. All stones used at Power Therapeutic Massage are kept completely sanitary for your safety and comfort.
Once you check in, your therapist will usher you to your private room, where you can undress and position yourself on the massage table. The room will be warm, so you will be comfortably lying under only a sheet.

Your highly trained therapist will arrive and begin with some of the traditional, Swedish massage strokes. But instead of using his or her hand, gentle pressure will be applied with a warm stone.
The stone will be replaced with a fresh, warm one as it starts to cool down. Heated stones may also be placed at different points on your body such as along your spine, meridian points or even in your hands.
Be sure to let your therapist know if the stones are too hot or if anything hurts or feels uncomfortable.
A hot stone massage is designed primarily to be a relaxing experience, so you should leave feeling totally and completely relaxed in both body and mind. 
Sign up for your Massage Session TODAY!


What Others are Saying about Hot Stone Massage Therapy
"Consider a combination of deep-tissue and hot-stone massage for back pain relief. The hot stones not only supply soothing warmth to combat the outside elements, but also can be strategically used on the customer's body in areas of highest tension. This use can assist in the release of muscle tension through the transfer of moist heat, allowing the therapist to safely access deeper muscle layers." 

Michele Merhib, founder and consultant for touchofelements.com, which has franchised massage studios in 21 states across the U.S.

"A hot-stone session... is the only session type that truly feels luxurious to me." 

Chrystal Higginbotham, Massage Therapist -- Oshkosh, Wisconsin

Sign up for your Massage Session TODAY!


---
Recommended Reading
To learn more about Hot Stone Massage Therapy, check out one of these books.

Hardcover and Paperback Books
Trulock, Alison (2008) Hot Stone Massage: The Essential Guide to Hot Stone and Aromatherapy Massage. ISBN-1402755643
Alison explains everything about the ancient healing practice of Hot Stone Massage, from which stones to choose (color, smoothness, shape, and mineral content matter) to which strokes to use. Along with attractive instructional photos throughout, there's information on setting up the massage, working different parts of the body, stimulating the chakra points, and alleviating specific symptoms—including muscular aches, back pain, arthritis, circulatory problems, and insomnia.

Bruder, Leslie (2009) Hot Stone Massage: A Three Dimensional Approach. ISBN-0781763274
This is a user-friendly, easy-to-follow manual designed to teach professional massage therapists how to give a safe and effective hot stone massage. The book covers all aspects of administering a hot stone massage including the type of stones and accessories needed, benefits and precautions, effective stone temperatures, diagrams for stone placement, detailed massage techniques, and a system for optimal stone management and flow.

---

(217) 347-0500
Open
Monday through Friday 8 am - 6 pm.
Saturday by appointment.
Power Therapeutic Massage
1209 North Wenthe Drive
Suite B
Effingham
,
IL
62401
Get Directions
e-mail
Advanced reservations are appreciated, but last-minute bookings may be available. Please call for availability. In case of cancellation please give 6 hours notice.
---
Home

>
Services Provided

>
Hot Stone Massage Therapy
---